Fire / Security / Access Control Services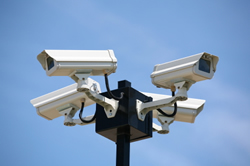 Fire Alarms
A fire alarm system is a mandatory requirement for most businesses and commercial premises. Whatever the size of installation required to suit your needs, we can supply and install a small stand-alone fire alarm system to multi loop, multi panel addressable systems with an array of integrated devices which can be linked to monitoring stations. You may also require a "Fireman's Switch" if your building or floor area exceeds 929m2.
Once systems are installed, commissioned and tested, certified and we have provided staff training and a service log book, we can offer a full range of maintenance packages to ensure you are always covered under current regulations and that your system is fully operational at all times. The current regulations recommends that the servicing of fire detection systems should be carried out by a competent engineer at least every six months. It is of paramount importance to maintain your fire alarm system not only for insurance purposes but more importantly, it could save a life.
Our service engineers are fully trained and qualified and will keep your maintenance records up to date. We will always try to send the same engineer to your premises on each occasion as this will save time rather than having to familiarise different engineers with your premises each time. You don't need to worry about remembering when your service is due; we will contact you to remind you and book a convenient appointment time.
CCTV / Access Control
To ensure the highest standards of site security are upheld, CCTV and Access Control Systems are often installed to monitor various installations. Whether a multi-door access system, monitored by stand-alone PC's or a network of internal and external CCTV cameras monitored locally / remotely.
Oaktree Electrical can provide the design, installation and maintenance of CCTV security systems for retail and commercial premises. We provide CCTV installation and a wide range of security cameras suitable for shops, offices and warehouses.
CCTV is now considered crucial in both crime prevention and detection. The applications of CCTV systems are increasingly incorporated in commercial premises, staff surveillance, anti-theft CCTV surveillance and access control. This approach provides the users with ultimate deterrent that is both visible and effective.
Digital CCTV systems can provide continuous and motion recording, high quality images, 24 hour monitoring when it is linked to a CCTV monitoring centre, plus remote viewing of images via the internet from anywhere in the world.
CCTV system is strongly recommended for the creation of safer environment, notably for company staff and customers, monitoring of sales floor activity and general deterrents against theft, violence and vandalism.
The traditional method of lock and key for securing areas has been in use for thousands of years, but if the keys are lost or stolen, the inconvenience and expense of changing the locks and issuing keys can be considerable, keys may also be copied creating more security risks. Access control allows you to control who has access to your building and provides the most efficient and convenient way of securing your building and assets. Once an access control system is installed, all entry points controlled by the system will automatically lock when the door is closed.
Anyone without a PIN or access fob is unable to enter. If required the doors can be set to unlock during a designated time frame. Access fobs can be barred from the system if they are lost, stolen or not returned by someone who leaves your company, barred fobs will not allow access through controlled doors.
Various levels of access can be set up allowing all staff to gain access through the main doors but to restrict access to internal areas unless there is a specific need to be there. Access can also be restricted by time, only allowing access to specific users at certain times of day or night. For the highest level of security we can introduce a biometric access system that operates using finger print, iris or face recognition.