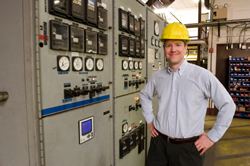 Mechanical Services
Planned Preventative Maintenance
MAP Contract Services would begin with a review of the equipment installed and production of a unique asset register. From the servicing requirements, load and usage of each piece of equipment a service plan is developed. Servicing is periodically carried out in accordance with the plan and manufacturers recommendations to ensure that all equipment is continually fit for the service intended. This approach has proven to be the most cost effective as it:
Reduces downtime
Reduces unplanned stoppages and breakdowns
Increases service life
Produces long-term benefits and savings
Reduced spares and storage costs
Emergency Call-out
We pride ourselves on being able to act quickly to our clients needs especially regarding plant break downs which we normally attend within 24 hours.
Service Visits
Our contracted maintenance service operates 24 hours a day every day of the year whether these visits
are proactive or reactive.